December is fast approaching and that means one thing; It's time to get those Christmas decorations ready.
Whether you're planning on reusing your family favorites or you're starting from scratch, there's always room for one more ornament.
If you're looking to go full luxe this Christmas, we have you covered with a list of some of our top picks for tree decorations. These items are not only gorgeously boujee but also affordable, which is the most important thing.
1. Ivy beaded pheasant, Joules – £6.95
There is no doubt in my mind that the Queen would buy this shiny little dec. Show off your class with the poshest bird around adorning your tree. Joules stock this at just £6.95, which is probably cheaper than the real thing.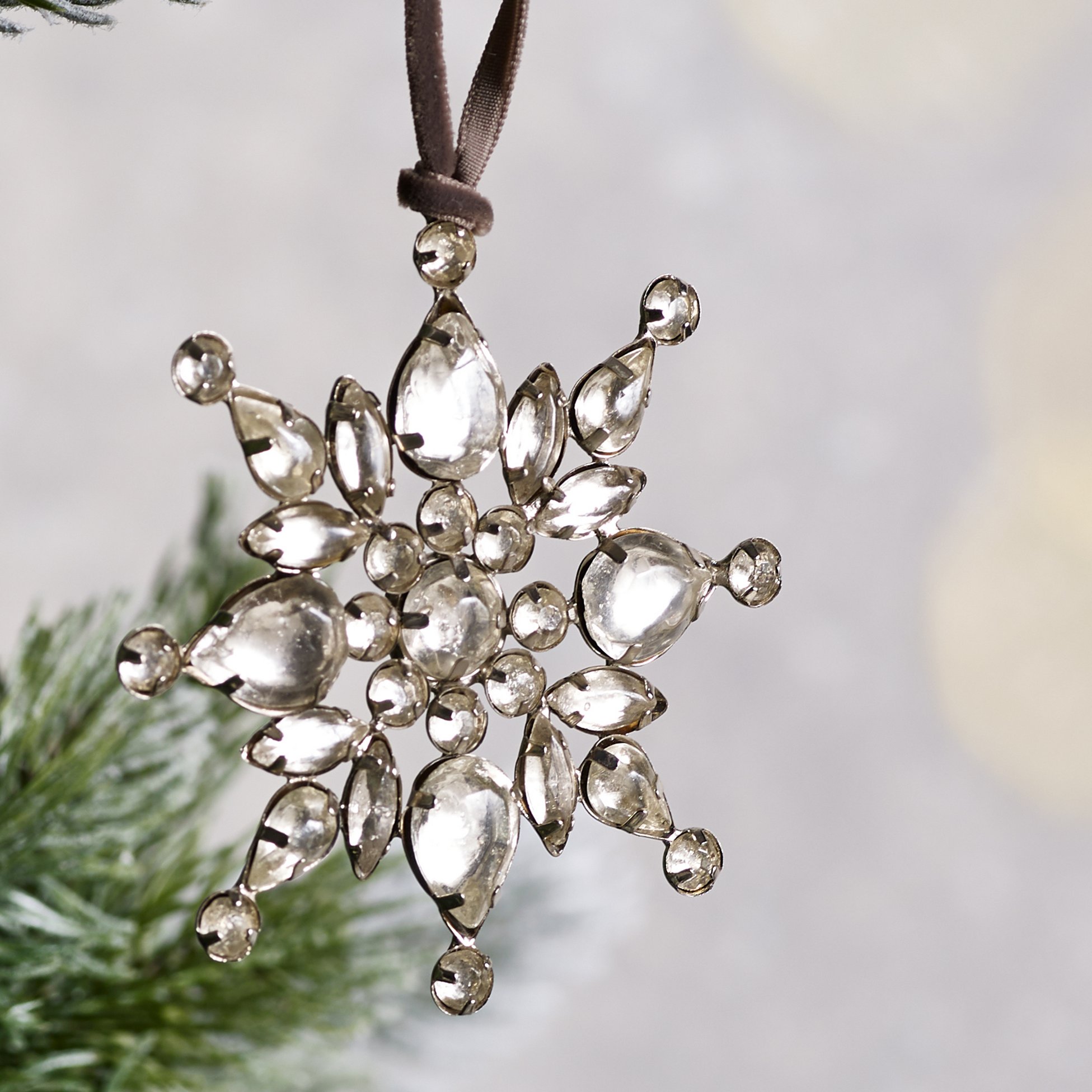 2. Jewelled Snowflake, The White Company – £6.00
Nothing says fancy like a diamond (or faux-diamond). These simple but stylish snowflakes will bring a glistening touch to your crystal-lacking tree.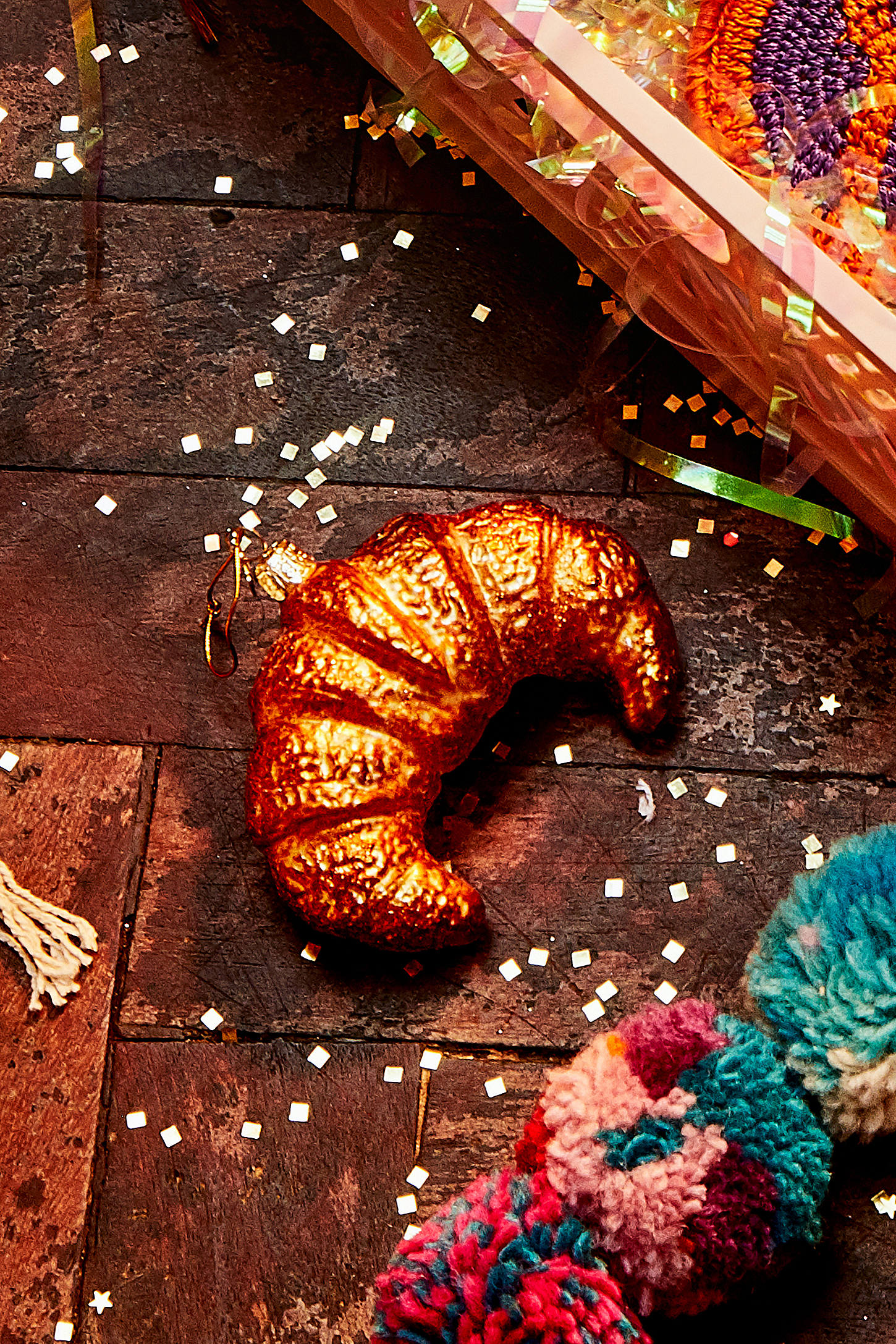 3. Croissant, Urban Outfitters – £12.00
Croissants are classy. I mean, there is probably the fanciest breakfast pastry, right? This sparkly Parisian snack will give your tree a trendy-chic look.
4. Oyster, H&M – £3.99
This decoration combines two luxury items; Pearls and oysters. H&M offer this glittery gold splattered oyster to hang on your tree, maybe a champagne bottle could be paired with this mini marine life.
5. Cheeseboard, Typo – £2.10
Keeping on the foodie theme, this cheeseboard dec is adorably cute. Cheeseboards are a Christmas must-have, so make sure everyone know how much you love a nice spread.
6. Star pink mirrored glass & gold metal, Oliver Bonas – £26.50
We're reaching outside of the affordable range with this one. However, it's undeniably beautiful and big. It's also simple and stylish. Oliver Bonas is the undisputed master of cute but classy designs. Yes, it's a little expensive but it looks so good.
7. Christmas Joy Bauble, House of Fraser – £40.00
£40 might seem like a lot for one bauble but this is as elegant as they come. It's giving some major Regency / Rococo vibes. If your 2021 tree is Brigerton themed (because why wouldn't it be), this is an essential buy.
8. Luxe City Ballerina, John Lewis – £10.00
We don't know what rich people do on Christmas Eve but i have a feeling it involves going to see some kind of aesthecially pleasing retelling of the nutcracker. If that isn't in this years budget then try is ballerina decoration from John Lewis. At just £10, it's definitely cheaper than going to see the ballet at the Royal Albert.
9. Sassy cat, Paperchase – £8.00
Honestly, this cat needs no explanation. It's got character. It's got class. Its got a pearl necklace with a matching bow. There isn't much it doesn't have going for it. Did I mention the faux fur on her chaise longue. This cat is what we all aspire to be.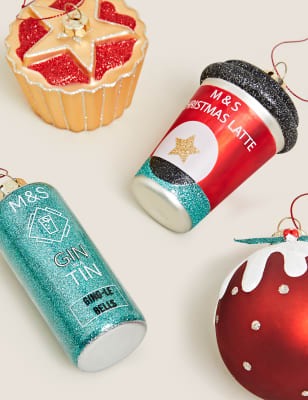 10. 4 pack glass food tree decorations, M&S – £15.00
Finally, we have this fancy four pack from M&S. In this set, you get a mince pie and christmas pudding, along with a G&T and latte. This isn't just an adorable decoration set, it's an M&S decoration set.